L'Abbaye de l'Escaladieu
The abbey of Escaladieu can be found in a small wooded valley of the Baronnies region, mid-way between the spa towns of Capvern and Bagnères-de-Bigorre. Inviting you on a journey, its straightforward, sober architecture promises a sense of serenity.
This 12th-century Cistercian abbey stands in a little wooded valley of the Baronnies region. It was reworked several times up until the 18th century.
Since then it has belonged to the Hautes-Pyrénées departmental council which is currently drawing up a long-term restoration plan. Nowadays, Escaladieu Abbey is a pleasant site that's brought to life through a whole cultural programme featuring art in all its forms, with concerts, exhibitions, conferences, plays and more. The abbey church, of incredible sobriety, and the capitals of the chapterhouse are must-sees, for insight into the lives of the monks, as are the spectacular trees that stand in the grounds.
Escaladieu in the digital era
The French Department of Hautes-Pyrénées remains determined to enhance local heritage features as we accompany them into the 21st century through various large-scale projects.
Hence, since 2015, Escaladieu Abbey has entered the digital era with multimedia features that offer brand new ways to discover the site, and a cultural programme with a component that combines art and technology.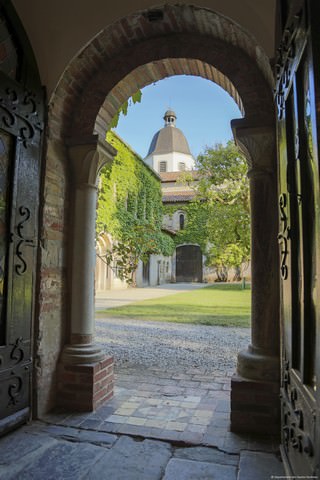 Opening times and admission fees: see the related page
Guided tours, activities, shows and exhibitions throughout the year
At the site: Shop, free parking and picnic area